Keeping track of everything you want and need to do is mentally exhausting.
Your brain can't hold it all. And there simply aren't enough hours in the day to get everything done. You know you have to prioritize, but often you're too overwhelmed to do it.
You're intrigued by David Allen's promise of "stress-free productivity," yet this eludes you. You've read the book, but still haven't found a trusted system that lets you operate with "mind like water" each and every day.
You hop around from one tool to the next – dabbling in a GTD® software tool, then moving to the promise of another. None of them have worked. You aren't really practicing GTD...and it's stressing you out.
You want to use Evernote for GTD, but you struggle to know exactly how to organize your account. Should you use notebooks, tags, or a bit of both? Google returns a daunting amount of conflicting opinions.
You wish an expert would just sit you down and show you exactly what to do.
What could you do with your life if your brain was used to have ideas, not to hold them?
You have the space, freedom, and clarity to pursue what interest you. You are able to grow your life in the direction you want to go, and focus on your true priorities: your family, your side-hustle, your latest product, your travel plans.

How much energy would you regain if your mind didn't have to focus its energy on remembering or reminding you what you have to do?

Feelings of optimism replace your overwhelm.
How free would you feel if you had a digital system to manage everything?
Your life is organized.

Your priorities are clear.

You spend seconds and minutes – not hours – searching for the information you seek. And you find it.

Life's curve-balls are handled with grace. You are on top of it all. And, you effortlessly pivot priorities during the day as unexpected demands appear. You handle it all with ease and without concern for things slipping through the cracks.

You're productive from anywhere. Your desk is with you – in digital form – no matter where you are: the airplane, the hospital, a client's office, the sidelines at the soccer field, from the beach in Barbados. You have access to everything, everywhere. Whether you are online or off. Whether you are at your computer or on your phone.

You finally understand why people love Evernote so much. It is your new best friend, enabling your productive and effective life.
I'm Stacey Harmon – Evernote nerd and your expert guide.
Imagine how effortless GTD could be if you were supported in your journey from novice to mastery.
As a leading Evernote Certified Consultant, I intimately understand Evernote – both its opportunities and constraints. I'm also a loyal GTD practitioner and advocate who has studied the GTD methodology for over 10 years.
I teach what I do – and I do GTD in Evernote. I know what works and what doesn't.
Get ready to have me lead you step-by-step down a path to success with GTD. With EverDone you have a road map showing you exactly how to use Evernote, each and every day, to succeed with GTD. And through my EverDone community, you have the support you need to stick to an effective GTD lifestyle over time.
I'll teach you:
A proven system for GTD success in Evernote – one that I have personally used for over a decade to manage over 30,000 notes.

How to navigate pitfalls and implement best-practices to create your own stress-free-productivity.

How to effectively do your weekly reviews.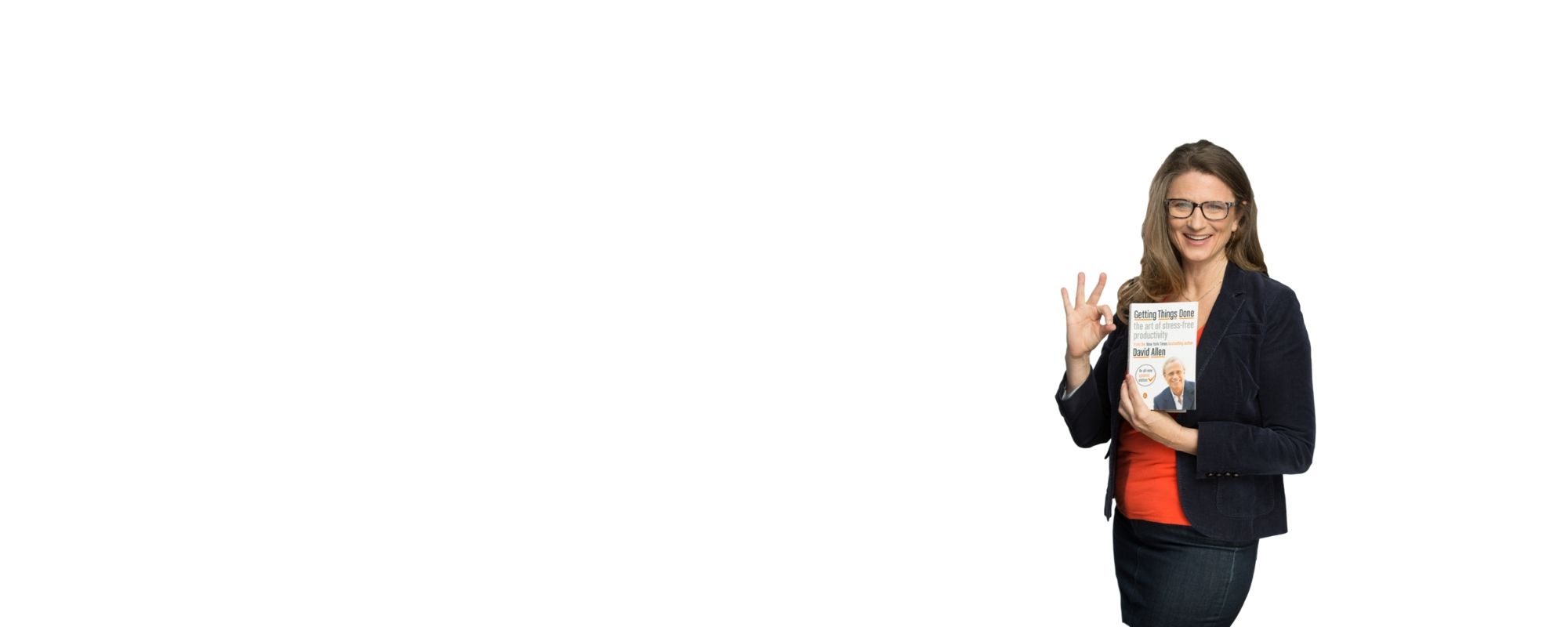 Chaos, overwhelm and disorganization are gone.
You'll won't over (or under) react to new challenges and information. No matter what life throws at you, your response will be proportionate to the force it creates - just like the ripples that radiate out from the pebble thrown in a pond.
You'll finally have "mind-like-water" and be in control of not only your to-do list, but also your life.
You've found your forever GTD home.
You'll use Evernote in the way it's intended to be used – as a digital memory outside your own brain that creates laser focus in your life that you can access from anywhere. You'll never need another tool.
As priorities in your life change your system will adapt, but the framework won't change. No more reinventing the wheel. You can even change devices over time – It won't matter if you are on a Mac, Android, iPad, or Surface Pro. Evernote works on them all.
And, you're part of a like-minded, community of savvy-GTD practitioners.
Anyone committed to practicing GTD quickly identifies that GTD is an ongoing practice…a lifestyle of sorts. And it's not uncommon to fall off the GTD wagon. If you've ever tried and failed with GTD, you know what I mean.
That's why EverDone is more than a guide. It's also a community of GTD practitioners all using the EverDone organization and system.
Active members gain access to these regular monthly events:
Live Q&A session. Don't worry about getting stuck with EverDone. You can ask me your EverDone and GTD questions live. Or, if you can't attend live, submit your questions and catch my answer on the replay.
EverDone guided weekly reviews. Hosted on a Friday afternoon at 3:00 pm Central US once each month, EverDone members come together for a virtual weekly review co-working session. There's structure. There's guidance. There's accountability. You'll work on your own weekly review – and finally get it done. You'll end your week organized. And, you'll learn about your own work habits along the way.
Imagine how organized and on top of things you would be by regularly completing your weekly reviews.
EverDone community members also have access to bonus trainings and anytime community conversations and connections. Post in the group and your question will get answered – often members respond before I can!
Your first 30 days of the EverDone community are included for free in your EverDone purchase.

Live an efficient and productive life with EverDone.
It's the ultimate solution to using Evernote for GTD.
EverDone is for anyone seeking a comprehensive time management system that provides clarity and control over the shifting demands of life.
With EverDone, you'll use Evernote to be your second brain, and Evernote will be your "trusted-system" to get things done.
You'll be empowered to focus on what matters most in your life and operate with "stress-free productivity," each and every day, from everywhere you are.
With EverDone, you'll:
Feel excited to get up in the morning ready to tackle your day, knowing exactly what to focus your energy on.

Be able to effortlessly pivot as stuff comes up in your day. No matter what your energy level, the size of the demand, or your current location, you'll have what you need to be effective and efficient.

Finally make progress on your life vision and goals.

You'll never have to switch GTD tools again. You'll have the skills, support, and advice you need to succeed with GTD and Evernote…forever. EverDone documents and teaches the workflow structure and actions you need to take to replicate Stacey's EverDone system in your Evernote account.
The EverDone® Guide: Immediate access to Evernote Certified Consultant Stacey Harmon's EverDone Guide.
72 pages of step-by-step instructions and supporting screenshots to guide you on exactly how to structure Evernote to practice GTD.

Deployment checklist: A summary of all the actions you need to take to manage GTD on a daily basis in your own Evernote account.

Lifetime updates to the EverDone Guide – for free.
EverDone Facebook Community: A vibrant community of like-minded GTD and EverDone practitioners answering your questions, sharing best-practices, and helping you maintain an effective GTD lifestyle over time. Plus ongoing access to:
"Ultimate Inbox Training" video: On-demand access to a 50-minute training where you learn how to centralize everything in Evernote.
Monthly live Q&A sessions: Once each month, I host a live video Q&A session inside the community to answer your questions and keep you moving forward with GTD. If you can't attend live, post your question and watch for your answer in the recorded replay.

Monthly guided weekly review sessions: Once each month you have access to a private Zoom call where I guide you through a facilitated weekly review. If you struggle to do a weekly review, this is what you need to get it done.

First month for FREE: Included in your EverDone purchase is your first 30 days of community access. Get all the community benefits – the bonus training, the live Q&A, the guided weekly review, and engage with the group. After 30 days, you'll be charged $5 month-to-month to maintain your community access, and you can cancel your membership at anytime.
Peek inside the EverDone Guide: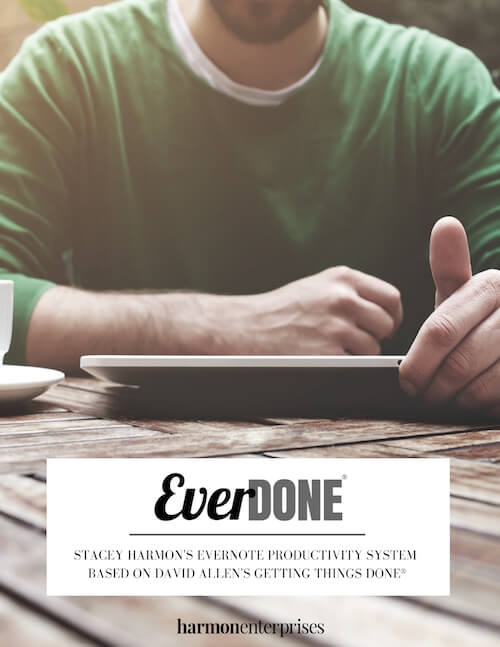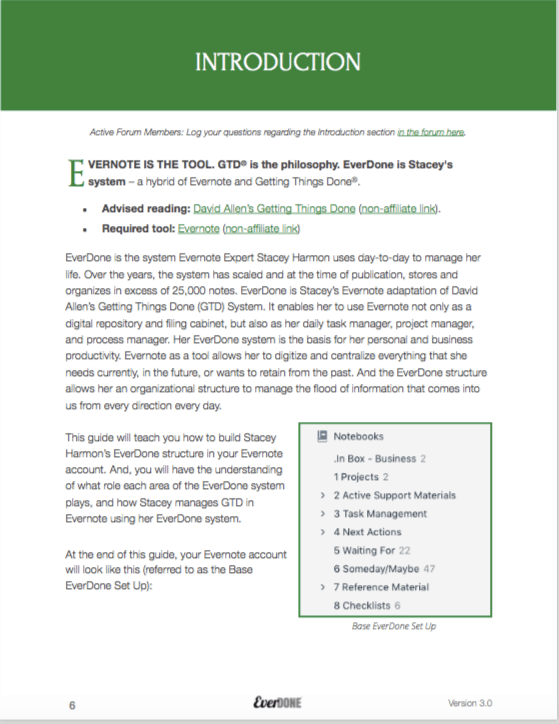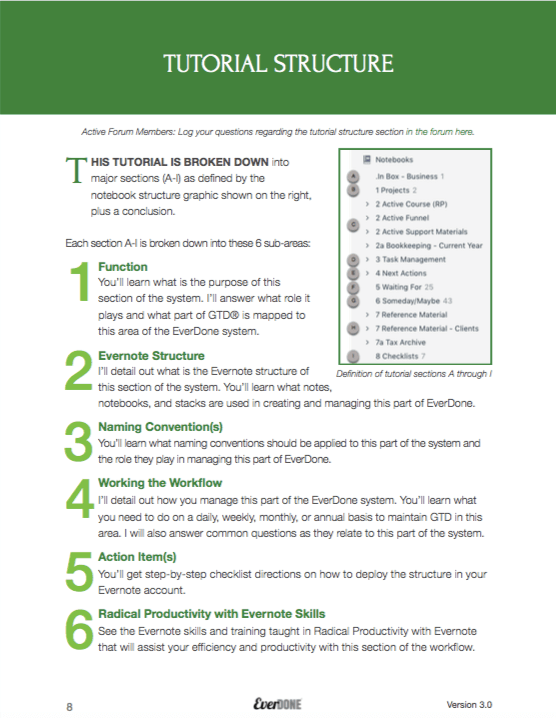 Create your own trusted GTD system in Evernote.
You'll finally have stress-free productivity.
EverDone Investment:
One time payment of $199 + $5 month
first 30 days free - cancel anytime
EverDone FAQ:
Q: How is EverDone different than Radical Productivity with Evernote?
A: EverDone is a workflow system, where Radical Productivity with Evernote teaches the Evernote skills you need to master the software on any platform. You need to be both Evernote fluent and have a workflow to be truly effective with Evernote.
Q: Is the EverDone Guide for both Windows and Mac users?
A: Yes. The structure and habits detailed in the system are for all Evernote users, no matter which platform you access the device on. Keep in mind that EverDone doesn't teach you Evernote. Instead, it teaches you what structure to create in your Evernote account which is common no matter what platform you access Evernote on. There are variations in how you – for example – move notes around or create stacks on Mac and Windows. These differences are taught in Radical Productivity with Evernote.

Q: What tier of Evernote service do I need to deploy EverDone?
A: You can deploy EverDone no matter which level of Evernote service you have...even the free version (Evernote Basic).
Q: Do you teach GTD in EverDone?
A: EverDone assumes that at the minimum, you have read David Allen's Getting Things Done book. EverDone does not teach his principles. Instead, it teaches how to deploy a structure in Evernote that will allow you to manage your life and digital data in Evernote using David Allen's philosophy. EverDone also assumes that you have a basic working knowledge of Evernote (at the minimum, you should be familiar with the free desktop version of Evernote and able to create notes, notebooks and stacks).
Q: How is EverDone different from The Secret Weapon?
A: The Secret Weapon is a tag based approach to organizing Evernote. EverDone is a note, notebook, and stack organizational approach based on Stacey Harmon's expert understanding of the features and constraints of Evernote. You certainly can still use tags in your own EverDone deployment but the organization of the data in an EverDone system is based around notebooks and stacks.
Q: I have a question not answered here. How do I reach you?
A: Send us a message at support@harmonenterprises.com. We're happy to help.
Structure and work GTD in your Evernote account.
Get the ongoing coaching, accountability, and community needed to maintain an effective GTD lifestyle.
One time payment of $199 + $5 month
first 30 days free - cancel anytime
Trademark Notice: Neither Stacey Harmon nor Harmon Enterprises, is licensed, certified, approved, or endorsed by or otherwise affiliated with David Allen or the David Allen Company which is the creator of the Getting Things Done® system for personal productivity. GTD® and Getting Things Done® are registered trademarks of the David Allen Company. For more information on the David Allen Company's products, please visit their website: www.davidco.com.